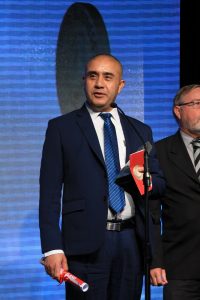 On behalf of everyone at Pacific College of Technology, it is a great pleasure to warmly welcome you. and to thank you for choosing to study and learn with us. You will be joining a very successful institution, one that provides the skills and experiences needed to become a life-long learner in an ever changing, dynamic world.
I am delighted to tell you that in 2016 International Student Barometer Survey (conducted by i-graduate, www.i-graduate.org), the College was one of the most highly rated education provider, not only New South Wales, but in Australia, with a satisfaction rating over 90 per cent: solid endorsement of the College's reputation for quality and service. Also, the College was the winner of 2017 Cumberland Local Business Awards in the education service category.
I am also very proud that the College is not only a unique provider of quality vocational education and training, but it is one where everyone is treated as an individual, where diversity is welcome, and where there is a supportive, creative, flexible, challenging environment with an international outlook and high ethical standards.
The College has 18 years' experience providing outstanding vocational education and training in accounting, business, management, marketing, human resources and information technology, ensuring that graduates have not only the theoretical, but the practical skills, knowledge and understandings they need to be successful.
Importantly, the College is approved by the Australian Skills Qualifications Authority (ASQA) and is on the Australian Government's Commonwealth Register of Institutions and Courses for Overseas Students, both providing assurance of quality learning and teaching, and of graduating with industry-relevant qualifications.
To ensure consistent quality education, training and assessment, all College courses conform to the Australian Qualifications Framework and relevant standards. This provides confidence that College qualifications are recognised by industry and accepted by higher education institutions.
I am pleased to say that the College has very experienced, well qualified and passionate staff, including professionally accredited teachers with post-graduate qualifications in their field. Teachers are assisted by other professional and support staff, ensuring not only an enjoyable learning experience, but a profitable and productive one.
The College is equipped with up-to-date information and communications technologies, including modern computers and high-speed Internet access and use. In addition, the College provides exposure to contemporary industry and technological development via study tours, seminars, guest lectures and other initiatives.
The College provides diverse and varied extra-curricular activities including excursions, international food festivals, barbeques, local cultural and other visits, and sports and games for those who may be interested. This is an important part of the College providing a well-rounded learning and living experience.
While studying at the College you will enjoy living in Sydney, one of the most beautiful, cities in the world, with a diverse mix of cultures and everything you expect of a thriving metropolis. To help you, College staff will assist you with arrival, accommodation, banking, tax and visa requirements and travel, in addition to all your future study needs.
I am very confident you will quickly settle and find a rewarding learning environment here. The College offers a rich, enjoyable study experience, with many opportunities to create lasting memories and foster friendships with your fellow learners, academic and non-academic staff. Importantly, we want you to feel at home at the College.
If you are interested in studying accounting, business, management, marketing, human resources and information technology, and have any questions or enquiries then please do not hesitate to contact the College and someone will be in contact to provide any assistance you may need in making the College your first choice as a place to study.
Pradip Dhakal
Principal